Omnetics Connector Corporation has just expanded one of its fastest growing connector families.
The Omnetics Polarized Nano Series (PZN) has now doubled its allowable contacts up from 12 to as many as 24 contacts. The PZN series is an ideal solution for designers who are tight for space, yet demand rugged reliability.
This series is an hermaphroditic connector solution encompassing both male and female contacts within the same insulator arrangement. Benefits from this connector configuration include the fact the connector itself is polarized, thus eliminating the need for excess weight caused by guide pins or other polarizing features.
The PZN series at 0.25″ .(64mm) spacing and mil quality, gold plated contacts, makes the series one of, if not the smallest Hi-Rel connector on the market today. Like all of Omnetics ruggedized solutions, the PZN series utilises Omnetics very own Flex Pin contact system, allowing users the ability to push as much as 1 AMP through each contact, which makes the PZN series a great complement to those tasked with getting from an I/O panel down to an ultra-small PC board footprint.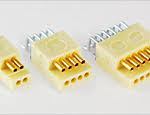 The PZN series is available in 4, 6, 8, 10, 12, 14, 16, 18, 20, 22, 24 position sizes. Termination options include; pre-wired, cabled, straight, and right angle thru-hole, as well as horizontal and vertical surface mount.
Custom harnesses are also available. Please contact us for more information or to get a quote or samples today!