Alpha Wire have recently expanded into a Micro Coaxial Cable product range which includes cable sizes from 32 AWG to 50 AWG. In addition to the release of the new Micro Coax range, Alpha Wire now offers Coaxial cable products ranging from 10 AWG to 50 AWG.
The Micro Coax range works within an op

erating temperature range of -70ᵒC up to 200ᵒC, meaning the line is ideal for everything from Industrial inspection applications to Medical endoscopes. The PFA dielectric and jacket provide stable properties for outstanding signal strength, low capacitance and consistent controlled impedance.  The Micro Coax is a great solution if limited space is the main concern, it makes routing easier in applications such as endoscopy systems, industrial inspection, medical probes, oximetry systems and much more!
* 50 Ω characteristic impedance
* Exceedingly small and light weight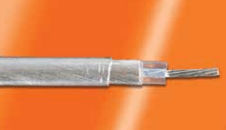 * 50 AWG to 32 AWG conductor range
* Stranded conductors for increased flexibility
* 30 Vrms voltage rating
* 90% shield coverage for excellent EMI protection
and electrical characteristics.
* Up to +200°C temperature range
For Any more information or Specific details on the Alpha Wire Micro Coaxial Cable please Click Here