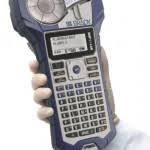 Banish the pen and replace difficult to read hand written labels, prone to smearing and fading, with smart printing capabilities of the BMP™21-LAB Label Printer.
Lab symbols & vial/tube auto-sizing, plus drop-lock-and-go cartridges, plus a rechargeable Lithium-ion battery, plus a two year warranty adds up to a powerful and affordable tool for quick and efficient label making in any type of laboratory.
High quality label materials designed specifically for the lab environment create durable, professional looking labels for your lab samples and beyond.
Designed for Laboratory:
Materials available for applications such as cryo vials and slides
Greek symbols commonly used in laboratory, intuitive menu structure for symbols
Vial label function automatically cuts the tape according to the size of the vial
Automated serialisation
Time & Date stamp
Easy to use:
3 line LCD display provides clear visibility
ABC keypad, graphics library, hot keys and menu functions for fast label creation
Long life rechargeable Lithium-ion battery*
Smart Cell Technology for automatic label set up
Automatic label formatting for commonly used label types in laboratory
Magnet* for more convenient use and storage on smaller laboratory benches and a lanyard for hands-free operation
Ergonomic, centre balanced printer with grab and go ridges grip for easy handling
Exceptional material variety and durability:
Laboratory specific materials designed to withstand harsh laboratory environments.
High quality, long lasting labels that stick and stay stuck
Prints durable true-sized 6 – 19 mm wide identification to maximise amount of data
Adjust the length of the labels using the high performance continuous material
Fulfil your requirements with up to 7 different industry specified materials that last
Easy to use, easy to buy…you'll never use a pen again!