The Mixed Layout Connector That Includes Power to 20A, Signal to 3A and Coax ti 6 GHz.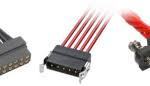 Harwin's Datamate is a high reliability connector system that suits applications where shock and vibration are a concern or reliability is vital. Offering 3A per contact on a 2mm pitch the connector is capable of very high levels of performance in a small space envelope and withstands shocks of up to 100G with no discontinuity of signal.
Datamate crimp connectors are available with a variety of latches or fixing screws for additional security of connection, including the recently added 101Lok quick release, spring loaded screws. The products can be used in wire to wire or wire to board applications.
Genalog a re able to offer Harwin's Datamate as loose pieces with crimp tooling or full wire harnesses to your specifications using our UL approved assembly division.
Datamate Mix-Tek Off The Shelf
High Reliability Connector System That Comes in a Variety of Crimp Options.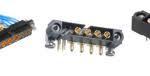 Datamate Mix-Tek extends the popular Datamate range to include mixed layouts of power, signal and coax in one connector housing. Preferred layouts are now offered from stock to reduce lead times.
Configurations include power only from 2-10 power contacts and mixed contact from 2 signal/2 power through to 12 signal/4 power. The standard range focuses on the most popular male PCB contact styles mated with female cable options. Hexagonal slotted Jackscrews are offered across the range.
Genalog's technical proficiency gives us the ability to provide solutions that our competitors cannot which will mean that we will be able to help into creating the perfect Mix-Tek solution for your specific needs and requirements.