UL, MILITARY & CSA APPROVALS
Thousands of reels of wire and multicore cable on Genalog shelves
Genalog is a Franchised Distributor for Alpha Wire, together we offer a wide range of high quality,  reliable Wire, Cable, and Wire Management products.
Alpha Wire has a long heritage of supplying a wide range of wire, cable, tubing, and accessories for varying applications. Alpha Wire understand that despite the breadth and depth of their product portfolio, sometimes you will require a cable as unique as the application. Alpha Wire will help make it easy for you to configure your custom cable. Using their partnership with Coast™ Custom Cables since acquiring in 2014, Alpha Wire will work with you to optimise your design and the manufacturing process to attain cost, quality, and design objectives. You will get the best match of electrical, mechanical, and environmental properties.
Please explore the ranges on offer below and on their own dedicated pages.

---
The Latest products from Alpha Wire...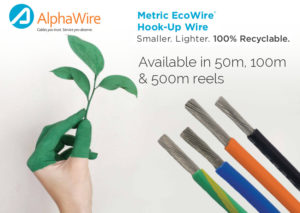 The Eco friendly and spec superior EcoWire from AlphaWire is now available in metric reel put up lengths.
Metric EcoWire derives its advantage from modified polyphenylene ether insulation (mPPE). It is inherently lighter and more durable than PVC. EcoWire contains no halogens, phthalates, or heavy metals. It meets RoHS and WEEE requirements for the elimination of hazardous substances and recyclability. The superior dielectric properties of mPPE make possible a reduced wall thickness while maintaining the same electrical properties as PVC. Metric EcoWire's diameter is up to 45% smaller than equivalent wires. The 1.03 specific gravity of mPPE is 25% to 40% lower than other insulation materials, such as PVC, polyethylene, and cross-linked polyethylene. Along with the reduced wall thickness, the low specific gravity yields significant weight savings of up to 40%. EcoWire's mPPE thermoplastic insulation can be easily recycled since it does not contain hazardous materials.
Get in contact with Genalog to discuss your buying options!

Alpha Wire proudly introduces a metric stranded line of flexible industrial cable impervious to oils and resistant to UV damage. Pro-Met offers the same uncompromising standards of consistency and uniformity in a cable, our customers have come to expect. Superior by design, its round construction makes it easier to install, seal, and route. Genalog is on hand to give you all the supply chain options you need or answer any further technical or design questions you may have.
Available in 50, 100 and 300 meters to our customers in Asia and Europe, Pro-Met is an excellent solution for industrial automation systems. Standard features include two to twelve conductors, grey or transparent jacketing options, as well as unshielded or tinned copper braid shielding with a 300 / 500 voltage rating.
OPTIONS IN THE TWO POPULAR STYLES....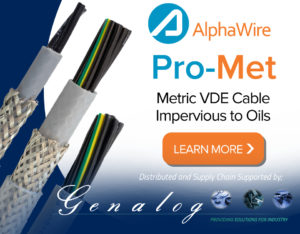 UNSHIELDED - (YY) PVC CONTROL CABLE
OR
SHIELDED - (CY) PVC CONTROL CABLE
Pro-Met is designed to meet the rigorous reliability standards critical for highly industrialised environments such as robotic automation and the food and beverage industries.  Rated for European manufacturing, this new line of flexible industrial cable meets the standards for Oil Resistance (DIN EN 50290-2-22, TM54),  Flame Retardency (VDE 0482-332-1-2, DIN EN 60332-1-2, IEC 60332-1-2), and offers excellent resistance to chemical exposure and UV light.
ASK FOR A SAMPLE LENGTH TO TEST THIS NEW LINE YOURSELF
Or please just get in contact with Genalog to discuss with someone in our sales team.
---

Alpha's micro coaxial cable is a great space-saving solution that makes routing easier in applications such as medical probes, endoscopy systems, oximetry systems, industrial inspection, and more. Alpha Wire's micro coaxial cable is perfect for a wide range of applications where space is at a premium, from sensitive medical imaging to industrial inspection. Our broad offering includes a full range of standard sizes from 50 to 32 AWG using high-strength silver-plated or tinnedcopper alloys and rated to +200°C. The PFA dielectric and jacket provide stable properties for outstanding signal integrity, low capacitance, and consistent controlled impedance. All items are in stock and ready to sample or ship for immediate delivery from the US.
 50 Ω characteristic impedance
 Exceedingly small and light weight
 50 AWG to 32 AWG conductor range
Stranded conductors for increased flexibility
30 Vrms voltage rating
90% shield coverage for excellent EMI protection and electrical characteristics
Up to +200°C temperature range
---
Alpha Wire is introducing ten new Industrial Ethernet constructions to the Alpha Essentials Ethernet line.
The expansion includes a wide range of categories including CAT 5e, CAT 6, and CAT 7, to better serve your component integration and bandwidth needs. All products are fully compatible with RJ45 connectors. Ethernet cables are available in conductor sizes from 26-22 AWG with temperature ranges between -40°C to +90°C. The collection includes cables of varying flexibility (continuous, torsional, and moderate flex) and approvals. The expanded offerings now include an LSZH product suitable for the medical and transportation industries, plus a flat construction which is ideal when space is at a premium. Alpha Wire's Industrial Ethernet is a perfect solution for applications in the robotics, medical, automation, and transportation industries.
 RoHS 2 and REACH compliant
CE and RoHS Certified
Foil/braid and tinned copper braid shielding
Resistance in harsh environments (oil, gas, dust, mold)
Stranded and solid conductors available
Continuous, moderate, and torsional flex
500 ft standard put up length (7602F stocks 500 ft and 1000 ft)
Low smoke zero halogen and flat cable constructions

---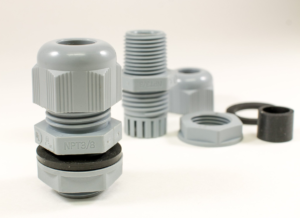 Alpha Wire's cable glands are a great solution for providing premium cable strain relief and protection against environmental factors such as flames and dust for a wide range of industries including renewable energy, industrial automation, and electrical equipment. Our broad offering includes a full range of easily installed standard dome glands, flexible spiral glands, and sealing hole plugs. All products are available in NPT, metric, and PG thread sizes. Cable glands are dust-, dirt-, sand-resistant, and watertight in accordance with IP68. Glands are packaged with an accompanying locknut and a gasket, providing you with a complete strain relief solution. Cable glands are the latest addition to our FIT Wire Management family of products. All items are in stock and ready for immediate delivery.
Optimum strain relief for static and flex applications
High-strength polyamide body composition
Large clamping range • IP68 up to 5 bar rating
Robust rubber seals to protect against dripping water and water pressure
Up to +150°C temperature rating
UL, CSA, RoHS rated

---
The NEW EcoFlex PUR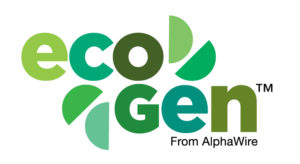 In addition to Alpha Wire's EcoGen range of compact, lightweight, zero halogen wire and cable, Alpha Wire have now introduced the NEW EcoFlex PUR. This cable provides continuous flex, reduced size and weight and zero halogen construction in a rugged, oil-resistant cable for continuous flex applications. The New EcoFlex PUR cable uses mPPE insulation and a tough, abrasion-resistant polyurethane jacket that enables reliable 600 V performances in cable that's up to 40% smaller and 44% lighter than typical continuous flex cables. Download the EcoFlex PUR brochure Here....
---
The NEW EcoCable Mini 300 V Recyclable Cable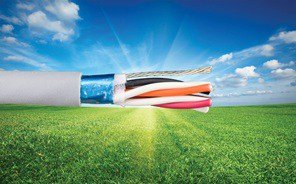 Alpha Wire have added to its popular EcoCable recyclable cable line to include a new 300V version that is up to 32% smaller and 44% lighter than the standard 300V PVC cable.
The EcoCable Mini uses finely stranded conductors for remarkable flexibility, giving you more options for fast, easy routing. And the thin-wall insulation and jackets give you the most efficient use of constrained spaces.
Download the EcoCable Mini brochure AL_EcoMiniBrochure_web
---
---
---
Xtra-Guard 1, 2, 3, 4 & 5 - Alpha's XTRA GUARD range arehigh performance electronic cables.

A flexible cable option of the XTRA GUARD range is also available. This cable is also able to withstand harsh environments, deliver high speed dependability and can be used for standard-flex to heavy-density high flexing applications. This range offers flexibility in cases of difficult and complex cable positioning.
---
Wire Management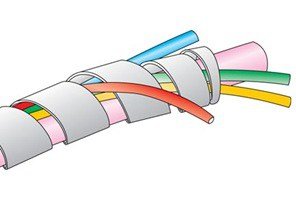 Non Shrinkable Tubing Expandable, Webbed Sleeving Fibreglass Sleeving Spiral Wrap Shielded Products Liquid Tight Tubing/Conduit Lacing Cord
---
Hook-Up Wire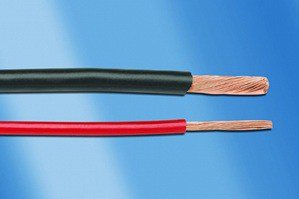 This range is manufactured in a wide range of specifications and from 8AWG to 32AWG. Also manufactured in PVC, SR PVC, Irradiated PVC, Irradiated Polyolefin, Kynar, Tefzel and TFE Teflon.
---
Communication & Control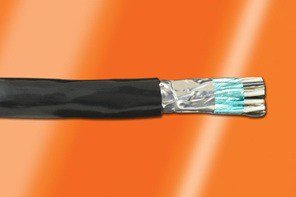 Common PVC Communication & Control Cables Audio/Video Cables Rubber, Neoprene, Teflon Cables Fire Alarm Cables Power-Limited Tray Cable Cables Plenum Cables
---
Heatshrink Tubing
Features and Benefits of this products range includes Irradiated Polyolefin, High Shrink Ratio, Dual Wall, Speciality Materials, Moulded Shapes and Accessories. Including the New FIT Fabric, FIT Fabric is the ultimate tubing for high-flex applications particularly in harsh industrial setttings. Designed for use in tough environments where high-tech equipment is used. Coaxial, Data & Lan Cable.
---
Coaxial/Twinaxial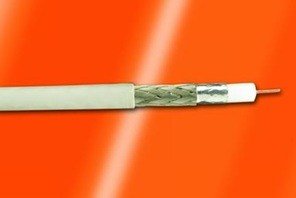 Broadband Coaxial (CATV/MATV) UTP (CAT 5) UTP (CAT 5E) STP IBM Type Modular Telephone Multipair Data Cable IEEE 488 Bus RS-232 Assemblies Ethernet
---
Flat Cables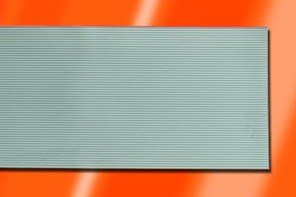 This range is manufactured with a conductor size of 28 and 30 AWG and the number of conductors ranges from 9 to 64. Cable type options include Shielded round-to-flat, Grey flat, Colour-coded flat, Colour-coded twist-to-flat, Shielded grey flat, Shielded round-to-flat and Shielded and Jacketed flat.