Genalog are pleased to announce the arrival of the NEW
BBP30
Sign & Label Printer from Brady!
The BBP30 printer gives professionals access to an even larger range of durable label materials.
These enable the creation of a large variety of tough safety and lean signs on-site that can resist extreme temperatures, weathering, abrasion, cleaning processes and chemicals.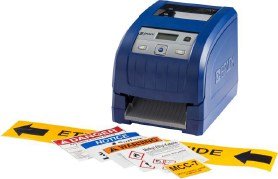 The BBP30 offers every facility the power to easily reduce risk of accidents, increase productivity, and comply with signage regulations in a sustainable way.
The BBP30 works with an easy-to-use "drop-in" label and ink ribbon cartridges for easy printing. The printer automatically recognises the cartridge and will auto-calibrate ro optional settings without any hassle.
On top of this, every material cartridge for the NEW BBP30 also works with these Sign and Label printers from Brady:
BBP30 Sign and Label Printer
BBP31 Sign and Label Printer
BBP33 Label Printer
BBP35 Multicolour Sign and Label Printer
BBP37 Multicolour & Cut Sign and Label Printer
This printer uses a single label material and ink ribbon range which is great for stock optimisation, requires less data management and makes selecting the best label so much easier for you.