Alpha Wire announces its latest range: EcoFlex PUR. With over 30 years of working together in the UK, Genalog, a specialist "design-in" and value added distributor, is helping you gain faster access to Alpha Wire and offers design expertise for new projects.
Genalog have invested heavily in an extensive UK stock package for this new range and offer full technical support, stock and cut and termination on EcoFlex PUR and all other Alpha ranges.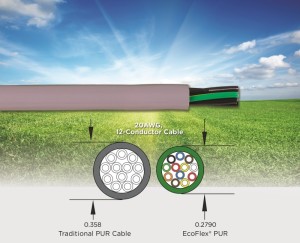 The PUR is an addition to Alpha Wire's EcoGen range of compact, lightweight, zero halogen wire and cable and provides a reduced size, weight and zero halogen construction in a rugged, oil-resistant cable for continuous flex applications.
The New EcoFlex PUR cable uses mPPE insulation and a tough, abrasion-resistant polyurethane jacket that enables reliable 600 V performances in cable that's up to 40% smaller and 44% lighter than typical continuous flex cables.
The zero halogen PUR jacket offers exceptional abrasion resistance, resists oil and UV radiation, and remains flexible at temperatures down to -40°C. Its mPPE insulation contributes to size and weight savings, and enables the cables to meet RoHS and REACH requirements for the elimination of hazardous substances and recyclability.
EcoFlex PUR cables are currently available in over 120 standard shielded and unshielded configurations, and up to 36 conductors.
Key features of this cable include:
Zero Halogen, contains no heavy metals or phthalates
PUR jacket, mPPE insulation
8M+ flex life cycles
finely stranded tinned copper conductors, class 6
Up to 40% smaller and 44% lighter than standard 600V PUR continuous flex cables
UL Oil Res I
UL Sunlight Resistant
Operating temperature -50C to +90C (static) and -40C to +80C (dynamic)
Bend Radius 4X (static) and 6X (dynamic)
Our current portfolio includes both shielded and unshielded cable, in conductor sizes ranging from 28AWG to 10AWG between 2 and 25 conductors.
Genalog are committed to customer service. Our detailed product knowledge and the experience of Genalog's dedicated staff whose expertise are available for advice and assistance in choosing the correct component for any project. Furthermore, our technical proficiency gives us the ability to provide solutions that our competitors cannot.
If you have requirements for Alpha Wire please do not hesitate to get in contact and one of our sales team will be happy to help. If it is not something in our stock profile then we may still be able to source these for you at short lead times.
Download the EcoFlex PUR Brochure Here….
To learn more about Alpha Wire and EcoFlex PUR continuous flex cables, please visit www.alphawire.com