A Smarter Circular Option; Saves Space and Weight
Omnetics Connector Corporation now have on offer a wide range of hybrid connector options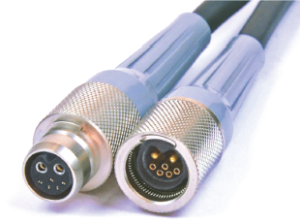 allowing designers the ability to transmit data, signals, and power easily in a single connector footprint. by doing so, Omnetics Hybrid Circular connectors allow users the ability to save space without having to sacrifice previous power requirements. This new connector family is an ideal solution for designers looking to upgrade as it relates to not only the size, but as well as the overall performance of their miniature rugged devices. Designers themselves have the ability to determine the amount of signal and power connections that best serves their particular application.
Omnetics Connector has laid out four standard design templates, ranging in size from 0.270"  6.86mm) O.D to 0.445" (11.30mm) O.D. The smallest option allows for (2) 10 Amp power contacts, and (5) 3 Amp signal lines, all within the same O.D. as our popular 12-pin Micro Circular connector. Similar to that of Omnetics' standard off-the shelf Micro Circulars, Omnetics' new Hybrid Circular family too has the ability to be sold with or without a latching feature.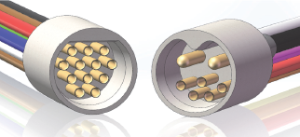 Omnetics' Hybrid Circular design also allows users to design their preferred hybrid contact interface directly into one of Omnetics' three rugged metal shelled options: Threaded, Breakaway or a quarter–turn Twistlock configuration. Each metal shell option, quickly allows Omnetics Hybrid Circular design to be used as a battlefield tested I/O solution to replace larger bulkhead options currently on the market today including 38999's, and Mighty Mouse configurations. Like all of Omnetics metal shelled circular solutions, the new hybrid design allows for add-on features for excellent EMI 360° shielding, extremely robust keying options, as housed in a plastic or metal shell, each Hybrid Circular configuration will include with it dependable and robust
gold plated contacts. These contacts are polarized and shrouded by Omnetics unique insulator, making these connectors capable of well over 500 mating cycles.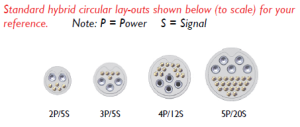 Omnetics family of hybrid connector options are an ideal interconnect solution for designers needing to adhere to and pass stringent power and signal requirements in some of the tightest spaces one can design around. These new hybrid offerings are currently being used across a number of markets from the battlefields to commercial food truck industry. These products are also suitable for robotics, portable communication systems, machine tools, and any other application that requires a compact rugged connector.