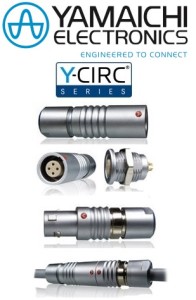 The Yamaichi Y-Circ series offers an improved Push-Pull circular connector range which can be used as a direct alternative to Lemo and other connectors ranges existing in this market place.
The Y-Circ range is qualified, designed and produced in Yamaichis' European office which is based in Germany, This allows them to adapt quickly to the ever growing needs of the european market. The Y-Circ portfolio includes various features such as the capability of being IP50 rated, other features may include:
2 to 30 Pin counts.
Available in sizes of 9, 12, 15 &; 18.
Solder and Crimp contacts available.
Special CAT6A versions for 10Gbit/s high-speed data transmission.
360ᵒ EMI Shielding.
Chrome surface / Also black chrome available.
Different push-pull connector types with various keying systems.
Click Here to try out Yamaichis new product configurator, easy to use step by step program,