Harwin Plc - UK manufacturer of connectors & hardware - Standard and Hi-Rel
Supplied and supported by Genalog Ltd
Genalog is a celebrated and historic franchised Harwin Distributor and together we offer a wide range of high reliability and industry standard connectors, PCB hardware and associated components. Genalog and Harwin have been in partnership almost since our company's inception over 30 years ago and have delivered award winning service and supply chain support ever since.
Harwin are a UK based manufacturer that produces an extensive range of industry standard connectors as well as custom offerings. A significant part of manufacturing can be designed to the customer's specific requirements starting from the original concept through to the mass production all within a matter of weeks.
Harwin have over 50 years experience in this industry and have been able to use this wealth of knowledge and expertise to develop, revolutionise and expand into a vast number of product fields. As a technically profound business Harwin has been able to show expertise in stamping, moulding, precision turning, cable assembly and automatic/semi-automatic assembly methods. 
Continue reading to explore the latest cutting edge products and catalogue offerings.....
Latest products......
Gecko-MT (Mix-Tek 1.25mm pitch Mixed Layout Connectors)
The smallest, lightest mixed-layout connector
The new Gecko-MT range combines the 1.25mm pitch Gecko signal connector
system with mixed technology layouts, adding 10A power contacts to the range.
The smallest and lightest mixed-layout connector available for high-performance
applications, Gecko is the ideal choice when SWaP matters most.
Featuring cable-to-board, board-to-board and cable-to-cable options, the initial
launch includes pin-layouts of 1+8+1 or 2+8+2 contact configurations.
The M225 series of connectors is aimed at the industrial market, and
is a 2.00mm pitch, high performance industrial connector range from
Harwin. Designed to resist industrial levels of vibration and shock, in
a practical package suitable for automated assembly at high volume.
This cable-to-board, double row design mates a throughboard PCB
male connector to a choice of crimp contacts, accommodating 22 to
28AWG wires on the female connector. The female crimp contacts are
available in both loose (for prototyping) and reeled (for high-volume
automation) packaging, and a hand crimp tool can be ordered for
low-volume work.
Harwin's new Archer Kontrol range of compact board-to-board 1.27mm pitch connectors offers designers a robust and flexible connection choice for their applications.
The new Archer Kontrol connectors are available in horizontal and vertical orientations with pin contacts ranging from 12 to 80. Different height options for vertical models are also available in
both male and female styles. These connectors can assist with blind mating and offer 1.2A per
contact.
CURRENT RATING: 10A POWER, 2A SIGNAL
CONTACT RESISTANCE: 20mOhms
INSULATION RESISTANCE: 1000MOhms
20G VIBRATION (No discontinuity greater than 1 microsecond)
 100G SHOCK (No discontinuity greater than 1 microsecond)
OPERATING TEMP: -65 DegC to +150 DegC
Harwin's newest shield clip S0911-46R is the smallest surface mount shield clip on the market, now making it possible for the smallest of cans with sides of 1mm to be fixed to a pcb by hand.
The S0921-46R corner shield clip provides an additional shielding area for the corner gaps in the folded cans, improving all-round protection against interference.
Shield clips avoid the need for soldering, are packaged in tape and reel for automation, and enable the can to be easily removed in case of the need for inspection or regular servicing.
Lightweight, space-saving, high-rel Gecko screw-lok connector now features reverse fix options plus cable assemblies
Continuing to push forward with further technological innovations, Harwin has significantly extended the scope of its award-winning Gecko Screw-Lok (Gecko-SL) 1.25mm pitch connector solutions – which are mainly targeted at avionics, space, military and autosport deployment.
The Datamate series is Harwin's Flagship range. It is available in the standard commercial specification and the British standard 952S - F0033. These are a 2mm pitch multi-contact two part rectangular connectors which are unsealed with parallel and perpendicular mounting for printed boards up to 1.6mm thick. The female connector styles are also available having insertable crimp contacts accommodating wire BS3G210 (type A) from 22 to 28AWG.
Harwin's Datamate (M80 and M83 series) connectors provide an extremely flexible interconnect solution, ideally suited for a wide variety of testing environments and conditions. Connectors are available in single, double and triple row configurations.
Features;
⇒ 3A per signal contact (all electrically loaded; 3.3A per individual contact) at 2mm pitch.
⇒ Proven 4-finger contact design to maintain electrical contact through high vibration and shock.
⇒ Beryllium Copper Contact for improved temperature range: -55°C to +125°C (testing in progress to confirm higher).
⇒ 500 Mating cycles durability.
⇒ Mixed Technology options - Up to 40A per power contact, 6GHz / 50Ohm coax contacts on 4mm pitch.
⇒ World-class quality from the Original Designers of Datamate - published test reports and proven track record.
⇒ Many popular products available from stock - 20-day leadtimes on extended ranges. Stock availability visible online.
Harwin Gecko (G125 series) 1.25mm pitch Hi-Rel Connectors
Miniature yet powerful
Harwin's Gecko (G125 series) is a new product of connectors which provide a low profile, dual row cable-to-board and board-to-board interconnect solution, ideally suited for stacking and cable mating in areas where PCB real estate is at a premium.
With Harwin taking space and weight into high consideration, G125 connectors have been designed to offer high performance in a miniature package. The pin spacing of 1.25mm and up to 50 contacts per connector offers dense pin counts in a small package.
With this design it means that the G125 connectors achieve a 35% space saving over other high performance connectors such as Micro-D.
Features:
2A per contact (all electrically loaded; 2.8A per individual contact)

4-finger Patented* contact design to maintain electrical contact through high vibration and shock

Beryllium Copper Contact for improved temperature range: -65°C to +150°C

1,000 Mating cycles durability

Weight and Space saving over Micro-D connector products

Future-proofed Materials - halogen-free, PFOS-free, SVHC-free and RoHS compliant

Low outgassing properties - 0.68% TML, 0.01% CVCM, 0.26 WVR (Water Vapour Recovered)
With space and weight a consideration for many high-reliability applications, Gecko delivers a pin spacing of 1.25mm, up to 50 contacts per connector. This design means that G125 connectors achieve up to 45% space saving, up to 75% weight saving over other high-performance connectors such as Micro-D.
Gecko is a focus product for Harwin, and is undergoing an active development program. The connectors are designed with automated assembly systems in mind - all connectors can be purchased in Tape and Reel packaging.
PCB CONNECTORS, Rectangular Pin Headers and Sockets
Industry Compatible Connectors
Harwin's Industry Standard PCB Connectors conform to current conventions for Pin Header and Socket systems. This range brings all the confidence associated with Harwin products:
Confidence in Supply – These ranges are stocked throughout the Harwin supply network, and are a core product from Harwin.

Confidence in Quality – Harwin are world-renowned for their standard of product, compared to other industry leaders.

Confidence in Service – Harwin offers full technical support, with a fast turnaround of samples.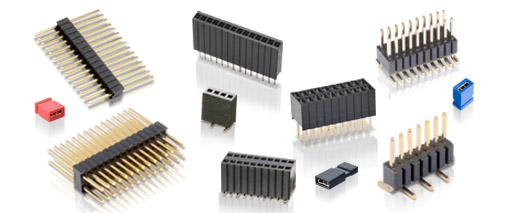 Range Features:
Selection of industry-standard connector pitches - from 1mm up to 2.54mm

Twin-beam connections for female sockets

Tape and Reel packaging available for all Surface Mount connectors, for automated assembly systems

Cable options at all pitch sizes

Jumper sockets for programming capabilities at 2.54mm, 2mm and 1.27mm pitch

Customizable Pin Header Variants available in 2.54mm, 2mm and 1.27mm pitch

NEW High-performance 1.27mm pitch Archer Kontrol - designed for demanding industrial applications
NEW High-performance 2.00mm pitch M225 Series - Fast mating locking connectors for demanding industrial applications
2.54mm (0.1") Pitch Connectors - M20 Series
with 0.64mm square male pins
2.00mm (0.079") Pitch Connectors - M225 Series
with 0.5mm round male pins
2.00mm (0.079") Pitch Connectors - M22 Series
with 0.5mm square male pins
1.27mm (0.05") Pitch Connectors - Archer, M50, M55, M52 Series
1.25mm (0.049") Pitch Connectors - M30 Series
with 0.35mm square male pins
1.00mm (0.039") Pitch Connectors - M40 Series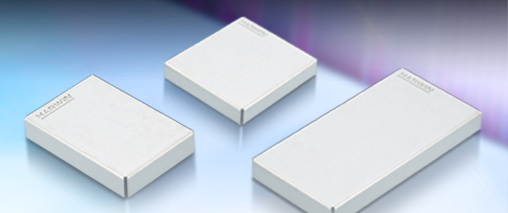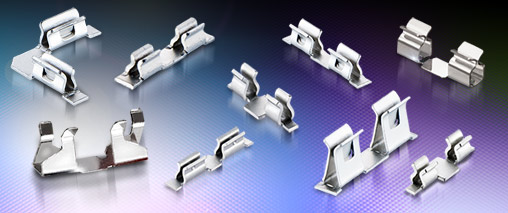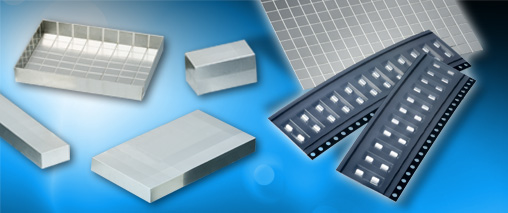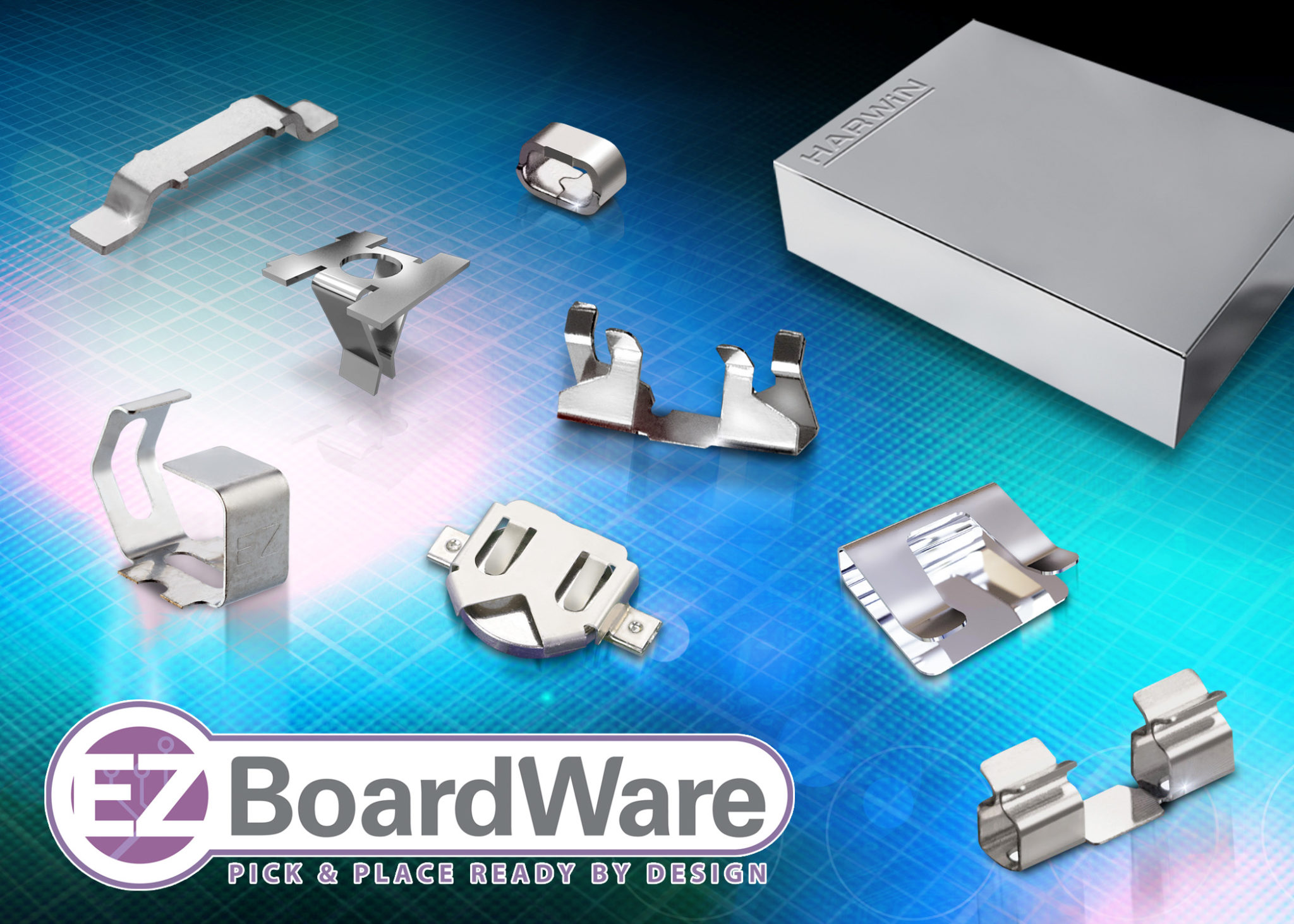 EMC Shielding Products
Harwin's range of EMC Board-Level Shielding covers 4 product types, each with their own advantages over the traditional shielding and grounding solutions.
EMC Shield Cans
Harwin specialise in Nickel Silver cans in a simple 5-sided shape. Designed for use with Harwin's Shield Can Clips, no soldering is required on the can for easy fitting.
Eliminates hot spots due to hand or selective soldering as a second operation. Cans are assembled with a simple push operation.

Simple to rework - just pull the can out the clips to access the board underneath. Replace the can just as easily once finished.

Single-piece construction saves costs over complex fence-and-lid cans.
EMC Shield Can Clips
Harwin's wide range of Shield Can clips are all Surface Mount, supplied in Tape and Reel packaging for automated assembly placement.
Clips are assembled at the same time as all other SMT components on the board - eliminate secondary soldering operations.

Wide range of shapes to cover shield thicknesses from 1mm down to 0.17mm.

Low profile options for minimal height cans.

Variety of insertion force, including vibration-tested versions.

Improves signal integrity by eliminating through-holes that interfere with the ground plane.
Shield Can Kit
Everything you need to make your own customized size of shield can! Award-winning kit includes two pre-scored sheets, 24 Shield Can Clips and an instruction sheet. Just add a ruler and a pair of scissors.
Scored at 5mm intervals - simply cut the blank along the scores, then fold the 4 edges down.

Ultimate flexibility for developers - try out different sizes for prototyping and development work.
Harwin's M300 series of 3mm pitch connectors bring a compact power solution to the High-Reliability portfolio, ideally suited for a wide variety of testing environments and conditions. Connectors are currently available in 3-contact single row, 6- and 10-contact double row. Vibration and shock resistant, compact power future-proofed.
Features:
10A per contact (all electrically loaded; 5A if 22AWG wire is used)

Proven 4-finger contact design to maintain electrical contact through high vibration and shock

Beryllium Copper Contact for improved temperature range: -65°C to +175°C

1,000 Mating cycles durability

Future-proofed Materials - halogen-free, PFOS-free, SVHC-free and RoHS compliant

Low outgassing properties - 0.68% TML, 0.01% CVCM, 0.26 WVR (Water Vapour Recovered)

Scoop-proof female connectors

Ready-made Off-The-Shelf cable assemblies available
Other useful features include keyway polarisation, and identification of the #1 position. Harwin provides CAD Models and Test Reports to assist with your design activities.
PCB Hardware Accessories
Harwin has been manufacturing and designing PCB hardware accessories since the company's foundation. The traditional turned products are supplemented by a wide and innovative range of Surface Mount products.
Surface Mount Test Points
Test points have been available to the industry for some time, but standard designs require a secondary hand assembly to the PCB. Harwin's Test Points are Surface Mount, to be soldered at the same time as the rest of the components.
Test points give consistent, repeatable locations to take test readings from a PCB.

The test point is a sacrificial item - by hooking or probing this loop rather than a bare track or a component leg, damage to important circuitry is avoided.

Harwin's range offers 3 sizes for different types and sizes of probe hook and spring probes.

Small to tiny footprints, for space saving. Robust design for repeated use.
Jumper Links
Fixed Links are an easy way of crossing over tracks when a design runs out of space on the PCB - a cost-effective alternative to via plated-through holes and an additional layer to the PCB. Removable links can be used as a programming method (similar to Jumper Sockets on Pin Headers), or for connecting adjoining PCBs such as an LED array.
Both Fixed and Removable links are available in Through-Hole and Surface Mount Designs.

Range of heights and pitches to cater for different board requirements and to aid design flexibility.

Through-Hole Fixed links can be soldered directly to the PCB - Removable can be used with PCB Sockets designed for Ø1mm sockets.
Surface Mount Cable Clips
Typically cable management across a PCB utilizes plastic cable clips with either adhesive or snap-in bases. Harwin's unique metal Cable Clips offer a low profile, space-saving alternative.
Surface Mount metal construction can be assembled to the PCB at the same time as the rest of the components - no additional operations required.

Smaller footprint than equivalent adhesive clips.

Very low profile - side entry for cables keeps them very flat to the PCB.

As the clip is metal, it can also be used to ground coax braids - just expose the braid to make direct contact with the clip.
Turned Terminals and Lugs
A wide range of single terminal pins (which can mate with the PCB sockets of the right size), turreted pins, slotted lugs and solder buckets.
Terminals are soldered to the PCB for electrical connection, but the tail design also allows for swaging for added mechanical retention - Punch and Die tool sets also available for order.

Turreted lugs available in 1, 2 and 3 wirewrap level versions.
Metric Spacers, Pillars or Standoffs
Known by any of these descriptions, the product type is still the same - threaded or clearance pillars, designed to hold apart board-to-board, or board from equipment case.
Metric thread sizes of M2.5, M3 and M4 - or clearance spacers suitable for M3 and M4.

Various styles of round or hexagonal body shape, wide range of body lengths, and Female/Female, Male/Female or Male/Male thread orientations.

Available in Brass (Nickel finish), Aluminium (passivate coating) or Plastic.

Selection of Plastic locking stand-offs, ideal for board-to-panel fixing.

Stocked in depth across Harwin's Authorized Distributor Network.