BRADY PRINTERS, LABELS, SIGNS AND ACCESSORIES
Supply, Support and 100% Customer Service from Genalog Ltd for Brady Labels
Genalog Is a Franchised Brady Distributor, together we offer a wide range of high quality, labels, signs, printers and associated identification products.
Brady products are not your average labels, signs and die-cut parts. Brady products perform no matter what – in extreme manufacturing temperatures, in chemicals and weather exposure, some even in electrical blackouts – providing critical information that protects premises, products and people, whenever and wherever it's needed. And we set the standards for precision, quality, durability and reliability. So when product performance matters most, Brady is the right choice.
BBP30 Sign & Label Printer:
The BBP30 offers every facility the power to easily reduce risk of accidents, increase productivity, and comply with signage regulations in a sustainable way.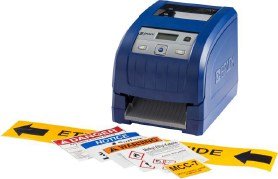 The BBP30 works with an easy-to-use "drop-in" label and ink ribbon cartridges for easy printing. The printer automatically recognises the cartridge and will auto-calibrate ro optional settings without any hassle.
NEW to the Brady Range!
---
BMP21 PLUS Label Printer:
Combining a tough exterior with smart printing capabilities, the BMP21-Plus hand-held label printer can take a beating and still perform. Offering drop-lock-and-go-cartridges, plus a rechargeable Lithium-ion battery, protective rubber bumpers, and a two year warranty adds up to the brains and brawn needed to take on the day-to-day rigours of any job.
2 line LCD display provides clear visibility
ABC keypad, graphics library, hot keys and menu functions for fast label creation
Smart Cell Technology for automatic label set-up and automatic formatting for wire wraps, terminal blocks, patch panels, cable flags and general labels
Multi-functional accessory with magnet, flash light and retractable printer stand for easy handling
NEW to the Brady Range!
---
BMP21-LAB Label Printer:
Lab symbols & vial/tube auto-sizing, plus drop-lock-and-go cartridges, plus a rechargeable Lithium-ion battery, plus a two year warranty adds up to a powerful and affordable tool for quick and efficient label making in any type of laboratory.
High quality label materials designed specifically for the lab environment create durable, professional looking labels for your lab samples and beyond.
Easy to use, easy to buy...you'll never use a pen again!

Designed especially for laboratories.
Easy-to-use printer.
Exceptional material variety and durability.
2 year warranty
---
BMP 41 Label Printer
Print it once, print it all, get it done!
The BMP 41 Label Printer is the rugged, portable solution that gives you the versatility to create your own length or already-sized die-cut and continous labels anywhere, anytime! Get your labelling done easier and faster so you can get on with your day.
Quick cartridge loading with already matched ribbon
Prints up to 250 labels per day at a print speed of 33mm/second
Drop-tested to ensure it can withstand any environment.
---
Brady IP Printers:
Load, Click, Print - it's that simple
The Brady IP Printers are easy to use with no manual adjustments for speed, temperature, material size, or layout, the printer does it all.......it's that simple!
Quick & easy label material change-over for multiple label applications
High performance print and materials-up to 600dpi print resolution on Brady's superior label
FREE label creation software