The Nano 360ᵒ series has released another line of products, this time is comes in a water tight, overmolded form.  Like all the other Omnetics Circular Products this utilizes the Omnetics rugged and reliable Gold Plated Flex Pin Contact technology. The SureCon 360ᵒ IP67 line is part of the smallest high reliability circular series that are available today, with extremely small out diameters ranging from .325" (8.3mm) to .384" (9.8mm).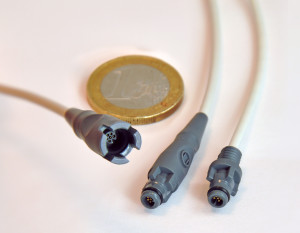 Specifications:
Available in 6, 11 & 16 Contacts.
1 AMP per contact.
Operating temperatures of -55ᵒC to 85ᵒC.
Designed to meet the standards of MIL-DTL-32129.
Utilizing Omnetics Gold Plated Flex Pin Technology.
---
With the capabilities to withstand High amount of vibration and shock whilst maintaining electrical integrity, these connectors are ideal for the most demanding of applications. Wit All 3 sizes that are available there is options for both inline and protruding panel mount configurations.
There are 3 similar versions which are available all sharing the above characteristic which one exception. Each SureCon 360ᵒ version will use a market specific cable and plastic overmold characteristics know to be vital for usage within that particular field.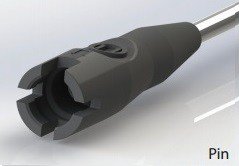 The Standard version features a 32 AWG cable, with a Gray Jacket material of TPE or TPU depending on pin count.
The Medical versions features a Bio-Compatible (Per ISO10993) 32 AWG cable, with a Light Gray TPU Jacket.
The MIL/AERO versions, features a Flame Retardant, Halogen Free, 32 AWG cable with a braided shield, by a Black TPU Jacket.
If you would like to see some more information regarding the SureCon 360ᵒ IP67 range please Click Here.