---
Spring Contact Connectors:

Harwin offer a range of miniature spring contact connectors for maintaining a positive force against a mating surface.
Surface Mount, supplied in tape and Reel Format for fast production processing.
2, 3, 4 and 5 contact versions are available.
Tolerant to significant mating misalignments.
Ideal for use in portable equipment where removable or separate battery modules are used, and for data transfer docking stations.
Low mating force allows for a rapid and effortless connection for a user-friendly connection system.
---
Spring Test Probes: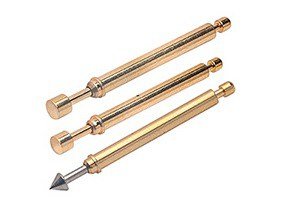 A range of test probes, suitable for single contact points, ATE test equipment and 'bed-of-nails' test fixtures.
A choice of head styles are available for a variety of application requirements.
Durable finishes and mating operations exceeding 100,000 for high levels of operational usage.
Selection of two-piece or single-piece probes for extended life and replaceability.
---