The Alpha Wires EcoGen product range are the next generation of eco-friendly, high-performance wire and cable, the products are designed to provide better performance in a smaller, lighter package.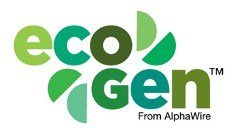 The EcoGen range benefits:
All products in this range are RoHS and WEEE compliant.
Zero Halogen.
Products contain no phthalates or heavy metals.
The overall diameter and weight in the EcoGen range have been vastly reduced.
Innovative mPPE insulation and jacket material.
What is mPPE you may ask..
mPPE is a modified polyphenylene ether thermoplastic that is inherently lighter and smaller than PVC. This material is used on all the of this product range, the non-halogenated insulation contains no heavy metal pigments, which allows Manufacturers to meet the Waste Electrical Equipment requirement (WEEE).
---
The product range includes: