Omnetics' Flex Pin contact design will meet or exceed the requirements of MIL-DTL-83513.  This one piece of design is stamped from Beryllium Copper per ASTM B488. The spring characteristic of BeCu is perfect in situation were high vibrations and levels of shock are a common occurrence.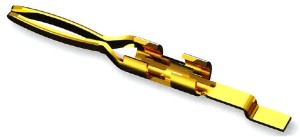 The Flex pin Contact is intermateable with all MIL-DTL-83513 Sockets.  Its ruggedized design is able to withstand the shock and vibration requirements of the Military specification.  Independent test have even proven that the Flex Pin contact is even able to handle the intense shock and vibration of the geophysical drilling market.
Omnetics Flex Pin contacts are all plated with 50 micro inches of gold over 50 micro inches of Nickel. All pins are plated post forming to insure a non-porous surface.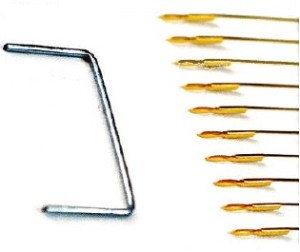 Over the last 25 years the Omnetics Micro Flex Pin has been in successful production. Omnetics removed the extra crimps and welds from the twist pin and designed the elegant one piece alternative  which is able to maintain the same performance as the overly complex twist pin.
The elimination of the extra joints meant that points of potential fatigue, failure and resistance had been removed.  Micro Flex Pins are rated 3 amps each and are the foundation of our Micro-D & MIL-DTL-83513 series of connectors.